When and How to Replace Your Home's Windows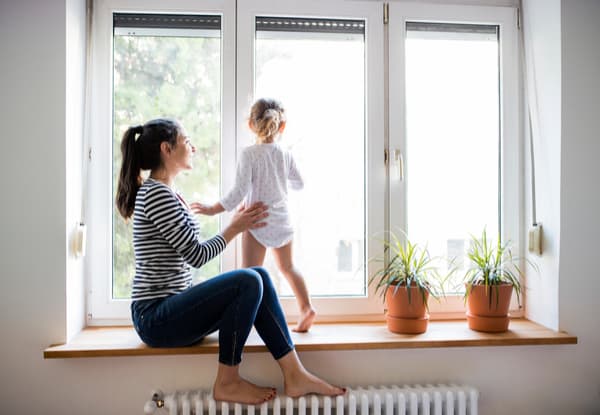 You mow your grass. You power-wash your siding. You even spring for a new roof because it makes your home look so much better. But what about the windows? A home's windows often get overlooked on maintenance checklists, but they're just as (if not more) important than other common projects. Here's what you need to know about window upkeep — when to replace them, and how to do it yourself.
When should you replace your home's windows?
If you're not sure if it's time to replace your home's windows, ask yourself these questions.
Do my windows look damaged? If a window is broken, then it needs to be replaced. But some signs of damage aren't as obvious as this. If your window fogs up easily, is hard to open or lets in drafty air even when it's shut, then it's time to look for a replacement.

Did my windows recently experience the effects of severe weather? Storms can cause normal wear and tear, but tornadoes and hurricanes can damage a window beyond repair. If your home was recently hit with severe weather, it's worth getting a professional's opinion on whether your windows need replacing.

Is my home older? If you live in a historic home (especially one that has never been renovated, or hasn't been renovated in a while), it's likely that you need to install new windows. Not only will this cut down on your heating and cooling bills, but it will give your home a good mix of modern comforts and historic charm.

Is my energy bill always very high? If your heating and cooling bills seem like they're off the charts, there's a good chance that you need to replace your windows. Older windows don't insulate from the elements like the newer ones do, and replacing them with newer models could help drive costs down.

Do they look bad? While this may seem superficial, windows that don't add curb appeal to your home can actually decrease your home's value. If no amount of cleaning and cosmetic repairs can make your windows look better, look into getting new ones.
How should you replace your home's windows?
So you've made the decision to get new windows — congrats! Here are a few tips for finding the best replacement.
Tip #1: Do your homework.
Replacement windows come in many sizes and materials, like wood, vinyl and fiberglass. Before visiting a hardware store, measure your windows to get the exact dimensions, read up on the different materials offered and decide which one best fits your aesthetic.
Tip #2: Make sure you have the right tools.
If you're going to try and replace the windows on your own, you'll likely need an array of good tools. Some basics include screwdrivers, measuring tape, a drill, a caulk gun, a hammer, a pry bar and safety glasses.
Tip #3: Map it out ahead of time.
Before you get started, write out the steps and do a mental dry-run of your plan. It should go something like this: remove the inside stop, lower window sash, parting stop, old top sash and sash liners. Put the new unit in place. Add caulk. Put the old inside stop back in.